Acquired Japanese medical parts orders with high-precision machines and cnc machining scale
Good Praise from Japan customers
PTJ Shop is a great company to work with. We use them anytime we have machining needs for prototypes we are working on, they are always very responsive and extremely helpful. They offer insights into ways to refine the design and they are always extremely quick and reasonably priced. Would highly recommend them, they are the only machine shop we use anymore,I am very satisfied with the progress of the chip thimble project being processed.


---- Japan customers Masayuki Yamazaki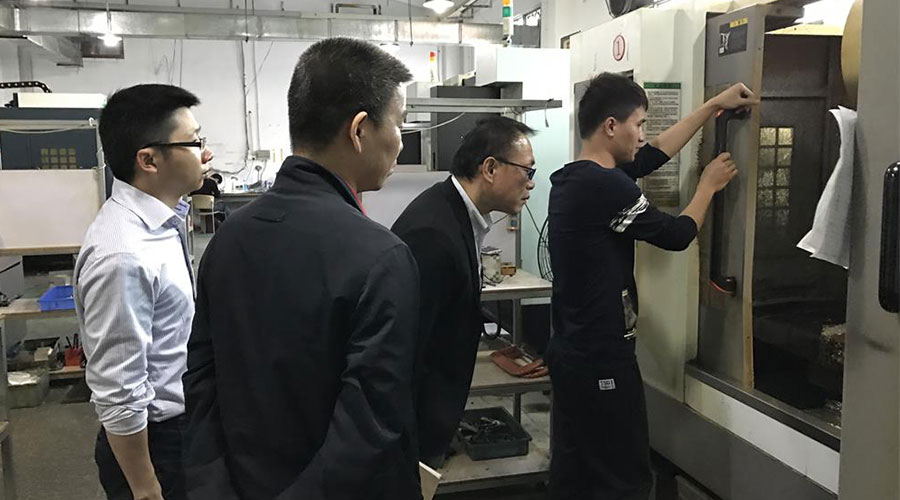 ▲ Mr. Yamabashi Masaru watched the CNC Machinist operating the machine.
The production of medical devices is a very complicated system engineering. It is impossible to be covered by a single precision mechanical parts processing factory. Many precision parts processing orders must rely on external procurement. Moreover, the more well-known medical device companies, the more they need more mechanical processing companies as suppliers, and have formed a mature cooperative supply chain. This open cooperation also allows the performance level of medical devices to be continuously provided to better serve the clinical front line.
With the sudden emergence of China's precision parts processing industry, international medical device companies have outsourced orders to Chinese companies. In Dongguan, many precision machinery parts processing plants are very popular among overseas customers. The medical processing services of medical equipment are not only excellent in quality, but also the price is quite competitive in the international market. For example, our PTJ Manufacturing Shop often receives medical device processing orders from Japan, South Korea and Taiwan, and the price and quality are quite satisfactory.

Recently, there is a Japanese customer in Dongguan, Mr. Masahiro Yamabo, who found our precision machinery parts processing plant to discuss cooperation. It turned out that his trip to China was to select suppliers of precision parts for their medical device companies. For the PTJ Shop, of course, it is a big customer who has fallen from the sky. I can't wait for it, and I hope that Japanese customers will come to see it earlier. Mr. Masahiro Yamabashi said that the factory they are looking for has two rigid regulations, and there are cases of medical device processing that can make high-precision machining!

PTJ Shop manufactures precision parts for medical devices, not only in the domestic market, but also in foreign customers. Because we have high-precision processing equipment, we can get so many customer orders. The company's foreign trade clerk, Mr. Masahiro Yamabashi, visited the factory and saw the past medical treatment cases and high-precision precision parts processing equipment on the spot. The contract was finalized on the spot!
---
---
PTJ Machining Capabilities
Automatic Bar Machining
–

Multi-spindle cam automatic screw machines
CNC Turning
– CNC delivers peak cost efficiency in shorter volumes, as well as high capacity production of mechanically simple components
Custom Machining
- with up to 12 axes of control
Multi Spindle Machining
- ISO 9001:2015 certified
Screw Machine Products
– The number of customized production parts per hour can reach 10000pcs
Swiss Machining
– with up to 9 axes of CNC control, to produce precision components with complex geometries in one operation
High Volume Machining
– 100 Advanced Production Turning Bar Automatics On-line and Ready
CNC Milling
- Machining Fully compliant with the exacting requirements of our customers
5 axis (11 axis) Machining
– Tolerance | 0.1mm alignment
What Can we help you do next?
∇ Get more information about cnc machining Shop
---
By
PTJ Manufacturing Shop
|Categories:
Blog
|Tags:
cnc milling services
,
cnc turning services
,
milling parts
,
turning parts
,
machining parts
,
special parts
,
faqs
,
technical news
,
company news
,
material news
|Comments Off
---