Israel Toolings GB and Machine Director Corning arrives at PTJ Cnc Machining Factory
Good Praise from Israel customers
We've used PTJ Shop sporadically over the course of 10 years and have never had major issue with them. They're always timely and responsive. The one time when we did have a small problem they made good on their promise and remade all the parts. They're a great supplier to Toolings GB.


----- Israel Customers Corning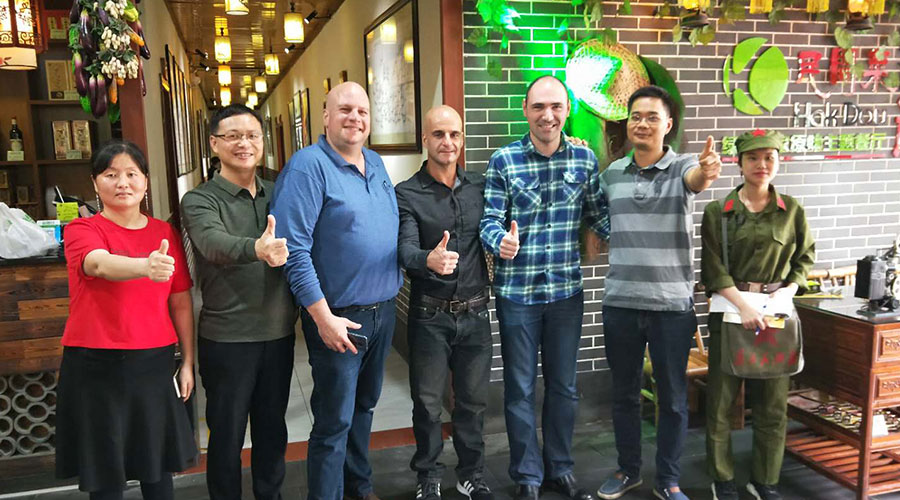 ▲ Have lunch with our old Israeli customers
On August 9th, 2019, the director of Israel's GB,Corning , came to visit our company. Our chief of the company,CEO Zhou, and David warmly entertained them.
GB is a large R&D company that has been working with PTJ Shop for more than 8 years. This time they came to the goal: need to be in PTJ Shop Batch cnc machining of titanium parts.
This time, Corning has one enginer, two project leaders and a total of four of her own visitors. During this period, our general manager Zhou took them to visit our CNC machining center, lathe and appearance sandblasting machine. Oxidizer, during this time Corning their project asked us some questions, PTJ Shop's Michelle always answered them one by one.
Corning showed us the parts they were going to make. The precision required for this part was very high. PTJ CEO Zhou said: "Our accuracy can reach 0.01mm. I don't know if it meets your requirements?".GB engineers are satisfied with our answer.
In the end, we always quoted Corning for their price. After a "spoken war", the delivery time and delivery amount were finally determined.
---
PTJ Machining Capabilities
Automatic Bar Machining
–

capacity for parts from 1/16" to 2 5/8"
CNC Turning
– CNC multi-axis machining centers for superior speed & flexibility
Custom Machining
- expert machined components delivered on time
Multi Spindle Machining
- Davenport, Euro turn, New Britain & Ac
me Gridley
Screw Machine Products
– precision components from a broad variety of materials & Equipment
Swiss Machining
– micro-parts to 1-1/4 round diameter providing speed, high capability including
precision tolerances and specialized finishes
High Volume Machining
– Specialized in machined parts exceeding 1,000 pieces up to millions of pieces for optimum efficiency
CNC Milling
- Machining from bar stock, plate or block metal using up to 3 axis of motion
5 axis (11 axis) Machining
– Multi Axis Multi spindle technology for completing complex parts efficiently in one operation. C=0 sampling plan & equipment versatility provide one stop shop capability for a variety of applications
What Can we help you do next?
∇ Get more information about Cnc Machining Shop
---
By
PTJ Manufacturing Shop
|Categories:
Blog
|Tags:
cnc milling services
,
cnc turning services
,
milling parts
,
turning parts
,
machining parts
,
special parts
,
faqs
,
technical news
,
company news
,
material news
|Comments Off
---